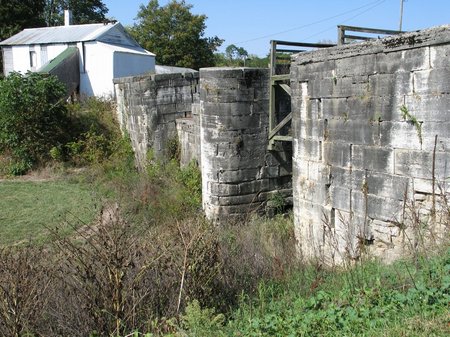 One stop on today's bike ride was Lockington, where a set of six locks had made it possible for canal era boats to ascend or descend the 67 feet of the Loramie Summit. There are some good articles about it at the Shelby County Historical Society's web site. This lock had a lift of 15 feet.
I'll get around to adding my route to this map later. Today's ride was 44 miles, which makes about 175 miles for the four days we've spent at Fort Loramie so far.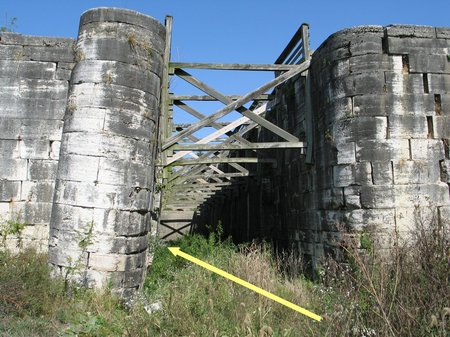 I left my bike at the upper end while I went down to the lower end of Lock 2. There are no self-guided trails. You have to figure out a way as you go along.
There was a lot more beyond Lock 2 that that I didn't see. This will be a good place for another visit, perhaps after I do some more reading that will help me to interpret these structures better.
On my return to the lower end of Lock 1, I noticed a bicycle wheel at the bottom of the other end of the lock. Funny, I hadn't noticed it before. Could it be? No, I could make out the pedal, and it wasn't one of my blue Mallet Eggbeaters. Just the same, it made me nervous.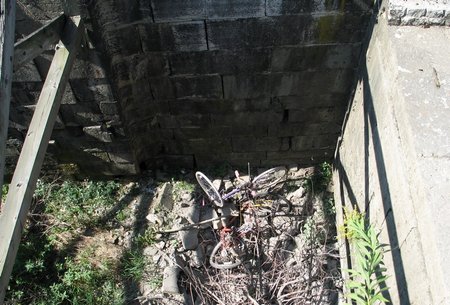 Back up at the top end, I looked down over the edge. There were two bicycles down there, not just one. But mine wasn't among them.
I'm glad it wasn't a victim of one of our nation's transportation wars. Back in the canal era, there were debates over whether the federal government should fund internal improvements like this. There were battles between canals and railroads and between river steamboats and railroads. (Abraham Lincoln was a lawyer for the railroad side of one of these battles.)
There is information at Lockington explaining how the canals made this part of Ohio prosperous. It made me think about all those well-preserved brick farm homes I see out in the country. I wonder if anyone has quantified the extent to which the canal was responsible for making the farmers well off enough to build so many fine homes. I could see why the canal interests wanted to preserve what was theirs.
But Lockington never became a great city on the order of Cincinnati. Now it's a small community with old homes alongside the canal, where there is not necessarily anything to separate peoples' back yards from the old towpath.
At one time Lockington would have been a place where people could stop to eat and shop while waiting for the locks to let their boats through. Now there wasn't a place for me to buy the drinking water I needed for the rest of my ride. (I ended up stopping along the way maybe 15 miles further along and begging for some from an elderly couple who were sitting out on their porch.)