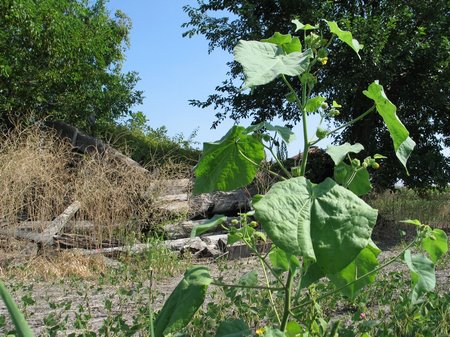 On my August 30 ride from Wapakoneta to Fort Loramie and Piqua, I first did a detour to the east. In Clay Township I came across a tumbledown log building. It didn't appear to be an old building that went back to settlement days, but I wondered if there was any interesting history associated with it anyway. Today I looked on old plat maps and then tried to search for anything interesting about the landowners, but I haven't found anything worth telling about.
I did find out that the original land buyer was a David W. Barber. He "entered" the land at the land office in 1837, and was issued a land patent in 1840. So at this time and place, it took roughly 3 years for the government to process the sale. It was always a struggle for the General Land Office to keep up with the paperwork, and sometimes Congress enacted laws that made the process extra slow and cumbersome. But I am under the impression that three years wasn't considered too bad.
It's fairly easy to find out when the land patents were issued, but not so easy to find out when people had gone to the land office to make their purchases. In this case, I learned about the year of purchase from "History of Western Ohio and Auglaize County," by C.W. Williamson (1905). It's available as a download via Google Books.
Here's the location on a google map.