My first major goal for the day was Parish's Grove in Benton County. It was a place where toward the end of the Black Hawk war a militia company had been dismissed. I got more interested when I learned from Wikipedia that the Kickapoo leader Perish (Pierre) Moran had been buried here, and that it had been a place with a large variety of trees. Out on the prairie that would have been significant.
I was riding west on CR-500N, and when I came to Morehouse Road, a crooked one that doesn't follow the rectangular grid, I decided to turn north. Those are often the more interesting roads, and who knows, this one followed one of the early trails.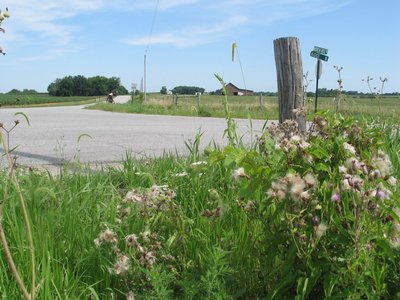 This is the first intersection north of 500N.

It was a mistake to head north, though. I had only county maps with me, and not a regional map that showed how all the places related to each other. So I got a little mixed up. I thought I needed to be further to the north. It would have been better for me to head straight west.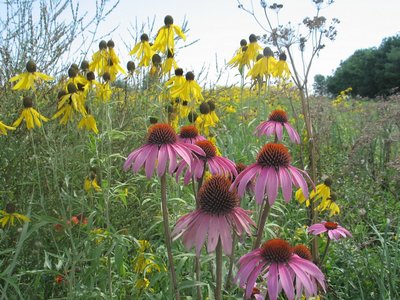 I did several miles on gravel. My detour took me to the most uninteresting terrain on the whole day's ride. There were level fields of corn and soybeans, nicely mowed ditches, and the sparcely located farmsteads didn't have much of the worked-in look that some of the more interesting farmsteads have. But here there was a field of wildflowers alongside the road, so it was worth a stop.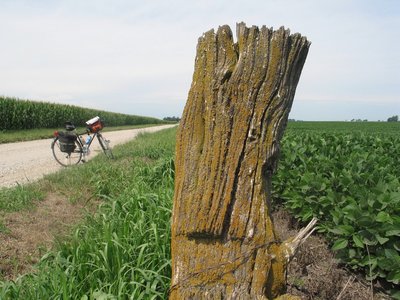 But from the point of this photo on, the country was not particularly interesting. In fact, I was starting to wonder just what it was I liked about riding in this part of the world. It wasn't until a few miles after my long, inadvertent detour was over that I remembered.