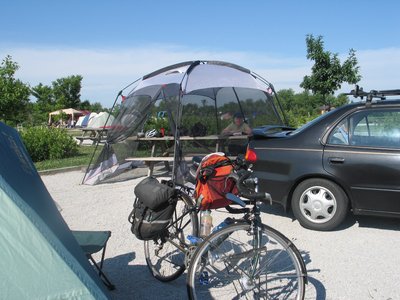 We just got back from four nights and four days in the Lafayette, Indiana area. I found some new connections to the Black Hawk story, but I'll save those for later. Here are the first and last photos from the trip.
The first is at the campground at Prophetstown State Park. We stayed there three of the four nights. The 3rd of the three we slept in our car, because a big storm blew in. We were watching the sky to the north, thinking there must be quite an electrical storm up there. Listening to NOAA radio confirmed it. NOAA was so busy giving tornado and thunderstorm warnings for the places to the north that it never said anything abou the more moderate storms that were nudging the way to the south where we were. We eventually decided to take down the dining fly, even though it had been guyed out by then, and while we were doing that the winds started to take our tent down, too. We keep telling ourselves we're fair weather campers, and this time we decided to act on that principle. We stayed in a motel the 4th night.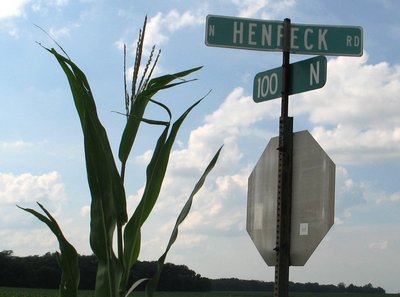 I got in about 180 miles worth of riding altogether on days 1, 2, and 4. Day 3 was spent doing library and archive work.
I ended near Covington today. Around 5pm I suggested to Myra that if she didn't feel like waiting for me in Covington, I was about finished with everything I wanted to do, and she could pick me up at the intersection of county roads 100N and 160W. It's a good thing I got to the intersection before she did, because the road seems to have been named from 160W to Henpeck Road. It wasn't the only instance of name changes I found.
Different versions of my maps give different names for this road, but none of them say Henpeck Road. I wonder if this is Fountain County's way of foiling the identify thieves: Just change the street names now and then.