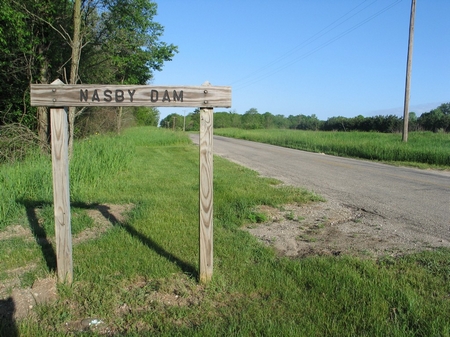 This road, from the beginning of last Sunday's ride, is now added to my list of favorites. It's not quite in the same league as the Hawpatch Road, but it's a pleasant 5-mile stretch where the motorized traffic has been very sparse every time I've ridden there.
This map shows the approximate location of the Nasby Dam, I hope. (When editing google maps I can't see the rivers, but when they display they tend to show up.)
The route is mostly through the Pigeon River State Fish and Wildlife Area.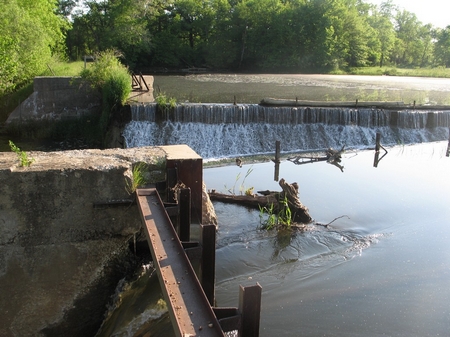 I learned about the Nasby Dam back on my very first self-contained bicycle tour, a three-day outing in 1997. I had an appointment to talk with a man in his 90s who said that when he was a boy, he had seen some of the remains of the fort the settlers had built at Cedar Lake at the time of the Black Hawk war. The remains consisted of logs that had been underwater ever since a dam had raised the level of the lake.
While at his house, I also talked with this gentleman's friend, a woman, not quite as old as he was, who owned a neighboring farm. She showed me old photos of Mongo and the dams along the Pigeon River, I believe from the 1920s or 1930s, when they were still used to generate electric power. Her father had been in charge of managing the water level. She explained that she had been a tomboy when she was young, and used to go out with him on the icy walkway to raise or lower the boards that controlled the water level. It was somewhat dangerous work. That walkway no longer exists, and in fact it looks like there is a different sort of spillway than what I remember seeing on those photos.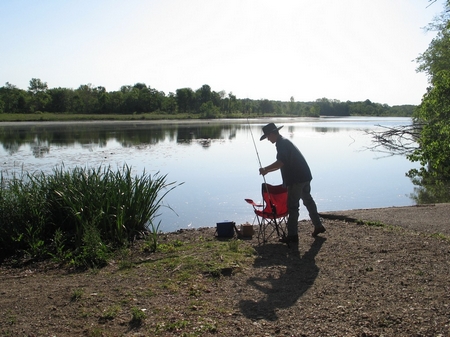 There was one other person at the dam — a young man who had been fishing below the dam without success, so decided to try his luck above, in the reservoir.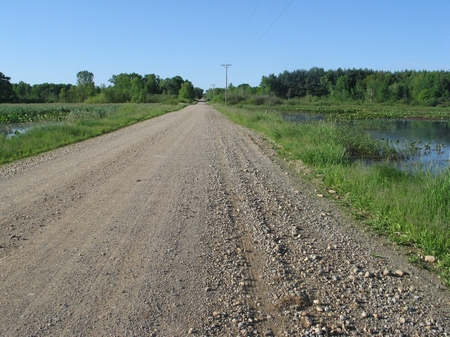 I had come through Ontario Saturday evening. I decided to take a different route to LaGrange, starting with one of the gravel roads heading south. Here I stopped to listen to the green frogs and bullfrogs. I liked the road so much that at the next intersection with a paved road, I decided to keep going on gravel for another mile. Then I took paved roads to LaGrange and the HawPatch Road.
This is supposed to be a blog about settlement-era history, so I'll mention that the Pigeon River is named for White Pigeon, a Potawatomi leader who happened to serve as a scout for the U.S. Army during the Black Hawk war. His name is the only Potawatomi name on the roster that anyone has been able to connect with anything else in the historical record.