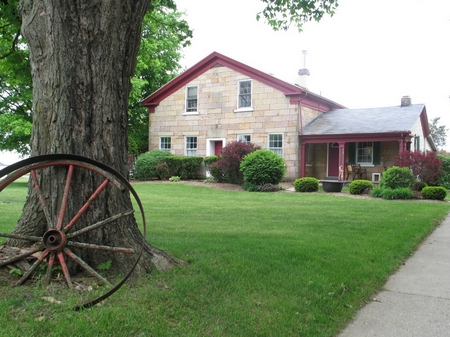 For yesterday's bike ride, I looked for a destination in Eaton County. The wind forecast suggested that would be a good direction. I searched the county histories, and came up with a Black Hawk anecdote that was new to me. From the 1880 history of Eaton County, page 477, is the following material (which seems to have been taken from some other source):
He began his military career soon after coming into the county, in Washtenaw County, as a minute-man. He had been there but one year when the Black Hawk war broke out. He was then orderly sergeant in Capt. Loomis' company. The Indians were numerous, and people becoming fearful many returned to the East. So general was the alarm that the authorities stopped navigation on the lake for the time being to prevent settlers leaving. In line of his duty as orderly sergeant he warned out the men from four townships, and the companies were marched to Ann Arbor. In anticipation of leaving for the seat of war, Montgomery had arranged to have his wife return to her parents; but the celebrated chief was defeated, and the men returned in peace to their firesides.

Previous to the Toledo hostilities, Montgomery had been commissioned as major, and at the breaking out of that demonstration he was promoted to the rank of lieutenant-colonel, and was chosen by the general voice of the troops to be their leader in the campaign. They marched to Toledo, then consisting of a few scattering houses, remained there three days, fired some shots into the river, and, as no more rampant foe put in an appearance, they marched home again.
The part about the Black Hawk war is a bit of a puzzle, because Le Roy Barnett's roster of Michigan men in the Black Hawk war does not list Montgomery. Nor does it show that there was a company under a Captain Loomis. The roster of Michigan men in the Toledo war does list Montgomery, though, with the rank of Major. I haven't yet investigated this very far — I haven't even checked all the easy-to-check sources. I needed a bicycle destination, and it seemed a good chance there was something to this story, so I went with it, thinking there was a chance that Montgomery's house was still standing.
One might notice that the above events took place in Washtenaw County, while my bike ride destination was in Eaton County. The same 1880 county history tells about the connection. Montgomery first settled in Washtenaw County. He came with an idea once common among farmers from the east, that good farmland was land that could grow trees. He would not be talked into anything else. He found some such land, near Dexter (and very near some other anecdotes from the Black Hawk war) but soon realized his mistake. He sold his farm after five years and then looked for prairie land.
The above-pictured house is on prairie land Montgomery bought just east of Eaton Rapids. An 1873 atlas shows a residence at that location, on land that still belonged to J.S. Montgomery. And the 1880 history says he was still alive at the time of writing. So I presume it was a farm house that he built. It's now a residential area, not farmland. But just to the east, across the county line in Ingham county, is part of the prairie that is still being farmed.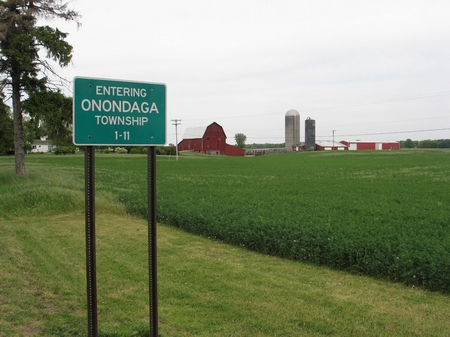 Mileage for the day: 64. Year-to-date miles: 691. I'm still way behind on my yearly mileage goal. Yesterday's afternoon ride gets me to about the first week in March. This 64 miles was a lot easier than last Sunday's, which is no surprise given that this time I was going mostly with the wind, was not carrying all my camping gear, and was well rested. It took me well under half the amount of time, and instead of collapsing at the end of the day I had enough energy left to work in the garden and do a little drywalling.