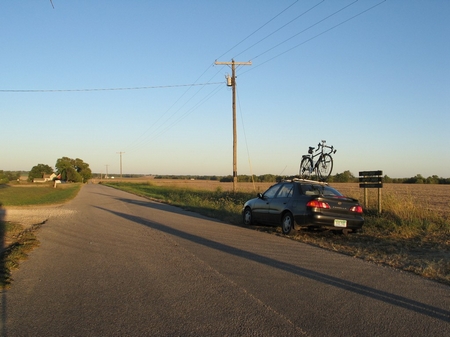 Today's entry in "Up in Alaska: Jill's subarctic journal" is titled "Homesick." Jill started to clean out her digital photo collection and got to looking at some old ones from Utah, which made her homesick for something other than Juneau, Alaska. It doesn't help that her friend, Geoff, is off doing some bicycle competitions in Utah. She says, "Sometimes I feel torn between Alaska and Utah, unsure which one is really my home."
I think I understand, somewhat. For me it's not a matter of Utah vs Alaska, although I suppose it could be. But tastes in terrain and scenery can change through life. Her post reminded me of how I now can't get enough of the kind of scenery shown in the above photo, taken in Knox County, Indiana last October. It really hurt that I had to resort to letting Myra drive me the last ten miles to this site to see the Maria Creek Baptist Church cemetery before it got dark. I had not expected that kind of open, slightly rolling farm country. Such places have been my favorite for riding in for some years now.
But it wasn't always that way. I grew up in agricultural country in North Dakota, Nebraska, and Minnesota. When I was a kid we usually went out west to the mountains or the Pacific coast for vacation. Later we went to places like the Boundary Waters Canoe Area. We escaped to country that was not at all agricultural. Farm country was something to get away from.
When Myra and I were first married, I'd joke about the flat Iowa cornfields and make fun of southern Minnesota as being nothing but honorary Iowa. She and I would smile at those of an older generation of farmers among her relatives, who viewed the northern Minnesota lake country as wasteland. But now, I can't get enough of farm country. I still can get tired of extremely flat cropland like the Red River valley of the north, or the Maumee River valley in Ohio or the Kankankee valley in Indiana. But I enjoy even those places like I never could have before.
The change didn't happen all at once. I found myself telling my kids more times than they cared to hear that I wanted to go to places where the trees had been cut down so I could see the scenery. There are places in the Dakotas like that. The tundra of the Northwest Territories was one of my favorites to visit. I eventually learned to enjoy the Iowa prairies that I used to detest, especially the way one can watch the thunderstorms roll through the big skies. I started to view wooded country as slightly claustrophobic.
But some of the change came about through bicycling. In 1996 I did my second tour ever — a three week ride to all the ballparks in the Midwest League (Class A minor league baseball.) I started off thinking the rides through Indiana and Illinois would be uninteresting except for the challenge of doing all the ballparks. Then when I'd get to the hill country along the Mississippi River and the hills of Wisconsin, that's when the vacation part would start. Indiana and Illinois were to be endured, Wisconsin was to be enjoyed.
But something happened the day I rode from Fort Wayne to South Bend. I took back roads to avoid the heavily traveled ones, and found myself in farm country that wasn't exactly like that where I had grown up, but it felt like home anyway. It was like riding through a picture book. It made me feel young again. At the end of the tour, I realized that the parts I enjoyed most were the parts I had expected to be the least interesting, including some of the Illinois prairies that I used to find excruciatingly boring when driving by car. Now that's the kind of country I seek out. I especially like places where people live out in the country, as opposed to places where people just sleep in houses out in the country. Right now I don't care for places where people are not to be found.
Will I ever get bored with the farm country and want to seek out the north woods again? Probably not, but who knows. I'm willing to be open to learning to enjoy new parts of the world. I'm also open learning to develop a renewed appreciation for other places I've known in the past. And I always like a little variety. I don't want to limit myself to my favorite kind of country.