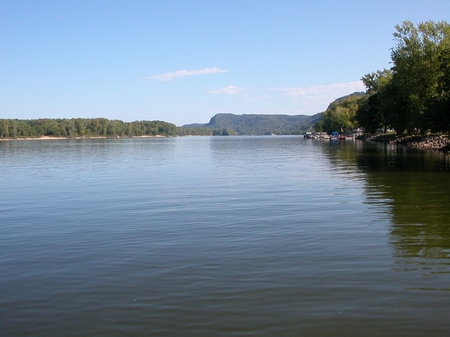 Sept 9, 2004, continued.
By the time I got back to the campground at Blackhawk Park, the fog was gone entirely. Now I was able to get some clear shots of the river. This one is looking north.
Black Hawk's people were trapped on the bank on the right, in between the steamboat "Warrior" which had been patrolling the river, looking for them, and the army and militia forces coming down the bluffs at them.
Here is how one of the eyewitnesses described it:
The troops and [Menomonie] Indians on board the Warrior, kept up a brisk fire on the Indians ashore, who fought with a desperation that surpassed everything I [John Fonda] ever saw, during an Indian fight, and I have seen more than one. The Indians were between two fires; on the bluffs above them were Dickson and his rangers, and Dodge leading on his men, who needed no urging; while we kept steaming back and forth on the river, running down those who attempted to cross, and shooting at the Indians on shore.
I got this quote from page 210 in Crawford B. Thayer's book, "Massacre at Bad Axe." He got it from the Wisconsin Historical Collections, Volume V (1868), Fonda, John H., "Early Wisconsin"