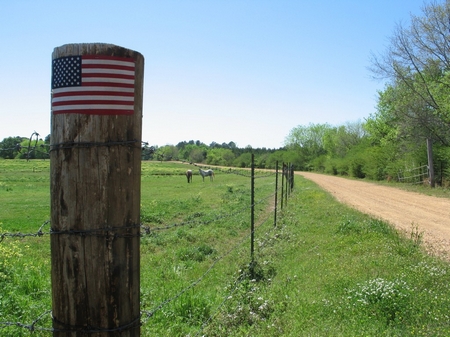 After leaving Hickory Ground, I rode north to the Julia Tutwiler prison (which I wrote about here and here), then continued north along US-231 before heading off the highway toward the river.
I turned left just before this fencepost, instead of riding down the gravel road. I was trying to see how close I could get to the Upper Creek town of Little Tallassee. In looking through my notes, I am not quite sure why I was headed down this exact road. It fits well enough the location described in "Historic Indian Towns in Alabama, 1540-1838," (Amos J. Wright, Jr. 2003), vague as it is.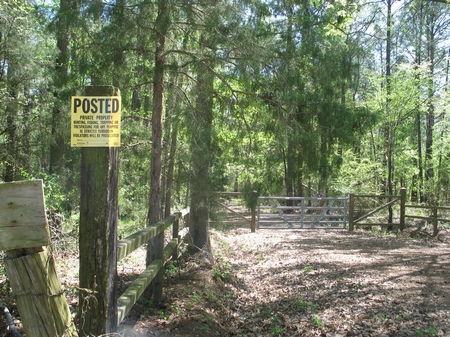 This was as far as I could go on public roads. Between here and the river it's private property, so I took a photo, turned around and went back to US-231 and my second stop at the Tutwiler prison.
So maybe I was close to the right location, and maybe not. At one time the town would have been hard to miss. Alexander and Archibald McGillivray established a trading post here in the 1720s, according to Wright's book. It was a small town, but an important one. It was one of the towns where the tribes that constituted the Upper Creeks would meet at irregular intervals to hold conferences to deal with the issues confronting them. Tuckabatche, a much larger town, was another such location.
Some of its importance may have come about because of the trading post. One of the homes of the famous Alexander McGillivray was here. This was not the Alexander who established the trading post, nor his son. His father was Lachlan McGillivray, who came to Georgia in 1736 and got into the Indian trade, probably as an indentured servant of Archibald McGillivray. (This information and that which follows is from "Deerskins & Duffels : Creek Indian Trade with Anglo-America, 1685-1815" (Kathryn E. Holland Braund, 1993)).
According to one early, though unauthenticated account, young McGillivray journeyed into the Indian country with a group of fellow Scots. He was rewarded for his service with a pocketknife, which he promptly traded to the Indians for deerskins, and 'the proceeds of this adventure laid the foundations of a large fortune.' By 1741, McGillivray was already respected as a Creek interpreter…[and by 1744] had established himself as one of the leading traders to the Upper Creek Nation. When he married Sehoy Marchand, a woman of the prestigious Wind clan reputed to be the mixed-blood daughter of a French officer at Fort Toulouse, his ascendancy in the Upper Nation was assured. McGillivray's influence in the Upper Towns was enormous, and from his base at Little Tallassee or the Hickory Ground, he provided information to both South Carolina and Georgia concerning Indian matters.
His son, Alexander, was an influential Creek leader who was respectful of Creek traditions, but who also took a large part in introducing the innovation of a centralized, governmental police force. It was the actions of this force against dissidents that constituted some of the early violence of the Creek civil war.