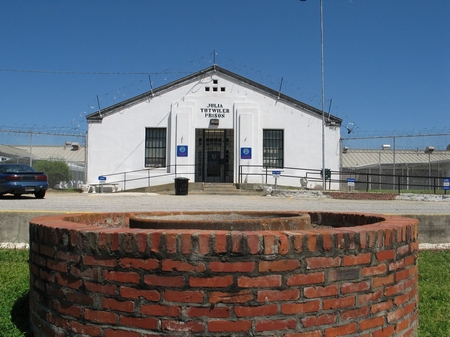 Two years ago, about this time of year, I spent a week of bicycling in the vicinity of Montgomery, Alabama. This was probably the only time a prison was one of my destinations.
The Julia Tutwiler prison is just north of Wetumpka, on US-231. It's where Nate Shaw (Ned Cobb) of "All God's Dangers" spent most of the prison term he got for defending his property rights back in 1932. The Julia Tutwiler prison was being converted to a women's prison when he served here, and that's what it is now.
An article in the weekend Wall Street Journal about "A different kind of slavery" reminded me of it. Ned Cobb's time in prison does not sound as difficult as what is described in the article, but he did work on convict labor crews in the vicinity of this prison and elsewhere. He was given easier work than many, as he was older than most prisoners. He was also allowed to go home to his family on weekends, but his time in prison was destructive of family life, just the same.