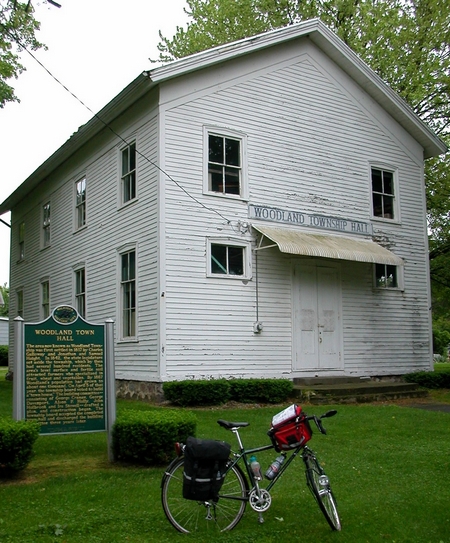 This photo of Woodland Town Hall in Barry County, Michigan, was taken on the first day of my ride to Drummond Island, which trip I started to tell about here. You can read the marker here at www.michmarkers.com. At the time I thought this and other old township halls had no particular significance for the history I was studying, but later I started to think otherwise.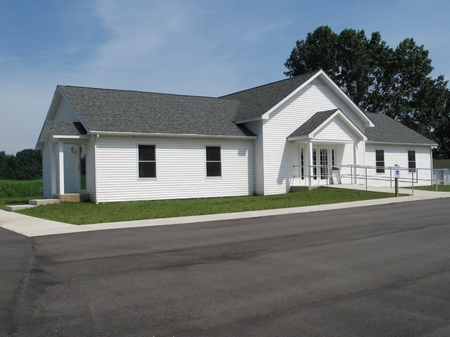 I came across this township hall in July 2006, on my way back home on a two-day self-contained tour to a place just across the border in Indiana. It's in Sherman Township, St. Joseph County. I had not expected this building. I had ridden past the Sherman Township Hall before, and it was an older building that more resembled the one in Woodland than this newer structure. I didn't see the old building this time. Maybe I was mistaken about the location, or maybe it was torn down to make way for this one.
I did take advantage of the small bit of shade on the left-hand side of the building to adjust the cleats on my shoes and take a rest. It was a hot, humid day in the mid-high 90s, and I had gotten out of riding shape since my ride in Alabama in early April of that year.
Later that year I thought I should start taking photos of all the township halls I come across, old or new. Township government is important in Michigan. If you need to hire a contractor to build an addition on your house, the first question is, "What township are you in?" They need to know if they're already licensed to work in that township, and what building inspectors and regulations they'll be dealing with. And the strength of township government is also shown in the new, sometimes surprisingly elaborate township halls that are starting to pop up here and there in the state. Even the above building was somewhat of a surprise to me for a township as rural as Sherman Township is. For another example, the new building in Convis Township, Calhoun County, was impressive to me, even though its location stinks. (It's downwind from a landfill, and the methane odor is obnoxious.)
Township government was important for the early settlers, too. The county histories are filled with long, wearisome lists of township officers. A lot of the Black Hawk militia people are on those lists. Usually I just blow past that information, looking for more interesting material about those people. But perhaps I should use it to understand just how important it was to those people who were still learning how to exercise government-by-the-people in the early days of the Republic.