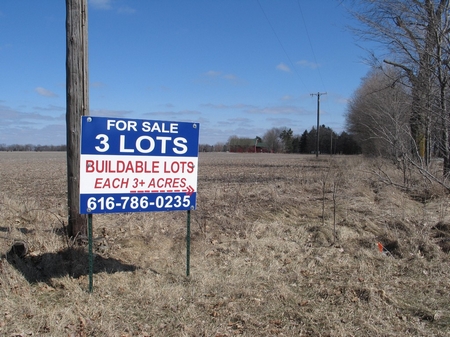 This was from my first photo stop on Sunday afternoon's bike ride, about 12 miles from home. The land for sale is on Climax Prairie in Kalamazoo County. I suppose the scene doesn't look very interesting, but the place is interesting to me because of a much earlier land sale.
Andrew Hays of Marshall, MI was the first buyer, perhaps in 1832. His big stone house built later in the 1830s still stands in Marshall. He bought a lot of land for investment purposes. He later joked about how during the Black Hawk war, he had gone ahead of some of the other Marshall militia to Schoolcraft, and then when he learned the men weren't really needed, went on to White Pigeon to buy more land.
I don't know for sure — it would take some quality time at the National Archives to find out — but this may have been the land he bought on that trip. I can't recall offhand all the reasons why I think this might be the place, but it's interesting that the land patent certificate (click on the image below in order to view it at a readable size) shows that the money was paid by Lyman Daniels on his behalf.
Lyman Daniels is in the Black Hawk story. He was on the trail between Schoolcraft and Marshall when news of the war came. And he was captain of a militia company from Schoolcraft.
His militia roster doesn't list Hays, but Hays was a physician, which may have given him some other status. And in general, it seems the official records for the militia soldiers from Marshall aren't very complete, anyway.