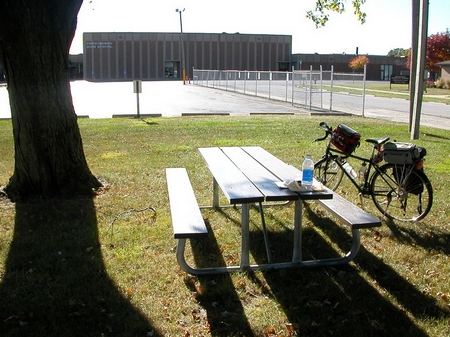 Cherebusco was at about the 40-mile mark, or 50 if you count my before-breakfast ride. I bought something to eat at a gas station. There was a place to sit inside, but I did my usual and asked if there was a town park where I could sit down with it.
While sitting here I heard a loud bang echo off that school building, as if two railroad cars had run into each other. I wondered, but then forgot about it. A few minutes later all the eastbound US-33 traffic was directed onto the side streets next to me. There had been a collision of some sort that blocked the main street.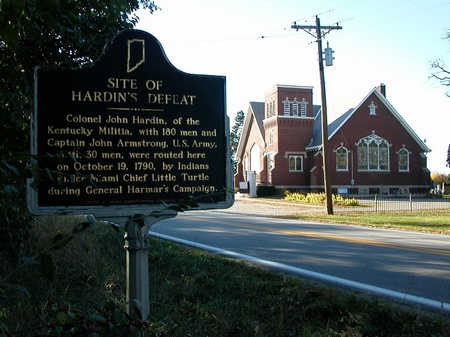 Even though it was late enough in the day that I was already having a difficult time taking photos with the sun so low in the sky, I took a detour to the site of Hardin's Defeat in 1790. This was the first of two armies that the Shawnee and Miami people defeated. General Harmar tried mightily to spin it as a successful mission, and that spin made its way into some old history books. The Wikipedia Article on Hardin's defeat seems to be a better source of information on it.
But one thing not mentioned there, which I didn't realize until now, was that Alexander Hamilton had basically given a heads-up to the native people about the coming of Harmar's army. He was cozy with the British, who were allied with the native peoples of this region, and told them about the American's plans. Hamilton's boss, President Washington, didn't know at the time he was passing on that information. I got this from "Kekionga!: The Worst Defeat in the History of the U.S. Army" (1997) by Wilbur Edel, page 80.
One thing I still don't know is what Washington did when he found out, or whether he ever even found out about it. Some people in the early 1790s were accusing Hamilton of having too much influence on Washington. What would Hamilton's adversary in the Cabinet, Thomas Jefferson, have done with that information if he had found out? Or did he? I've read several biographies and histories about Hamilton vs Jefferson, and am pretty sure I would have noticed if any of the authors had mentioned this.
It was already late, the day was getting cool, I wanted to make one more history stop, and I was still 40 miles from the campground on the Salamonie River. I didn't stay long at this place.