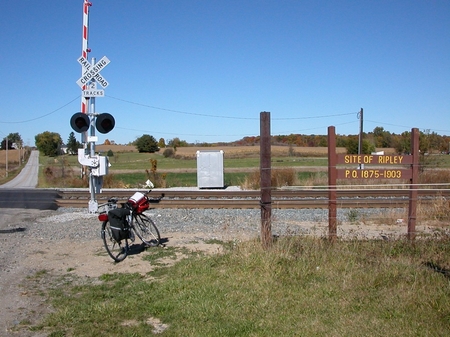 After leaving the Turkey Creek valley I did stop for a few photos on my way to the Wabash River (on October 10, 2004). This was taken a couple of hours after leaving that road along Turkey Creek.
Just looking at these photos makes me wish the snow would go away so I could go riding in places like this again. Sometimes people look at me funny when I say things like that. I suspect this type of landscape doesn't have the same appeal for everyone else. Maybe it's why I run into very few bicyclers on my rides.
A town that didn't come into existence until 1875 is way too new to be of much interest to me, but I took a photo anyway. I just now got around to looking for information about it. It wasn't easy to find anything, partly because there is another Ripley in Indiana, along a railroad line in Pulaski County.
I probably have a map somewhere where I marked my route, I recall approximately where I went. From the timestamps on the photo, figuring I probably average about 10 mph, including the occasional stop for photos, I decided it must be somewhere between Avilla and Albion, in Noble County. Then I went to the Noble County genweb site and did a search for Ripley. I found this page about train accidents, and learned that a few had taken place here at Ripley:
A wheel broke on one of the cars on an eastbound freight near Ripley Sunday morning about 4 o'clock, and delayed train Number 5 which throws mail off at this station. A number of freight trains were compelled to lay on the side track at this place. The wrecking train was summoned and the track was not cleared for traffic until 9 o'clock this forenoon. The Albion Democrat, January 20, 1898
Quite a disastrous freight wreck occurred on the B&O railroad at Ripley, east of this city, Friday morning shortly after midnight. An eastbound freight was on the main track waiting for a westbound freight to take the side track, but the westbound train was running rapidly and as there is a steep down grade, the air brakes would not hold and the engines collided with terrible force. Each train had two engines and all four locomotives were badly wrecked along with a number of the cars. An engineer on one of the freights jumped and his skull was fractured, but it is thought he will recover. Homer Braden was conductor on the west bound freight and Carl Talbert was conductor on the east bound. The Albion Democrat January 26, 1899
Train number 17, due at Albion at 12:01, was more than an hour late Saturday on account of a wreck at Ripley. The Albion Democrat, October 21, 1903
There was no such excitement when I was there. It was a quiet afternoon.