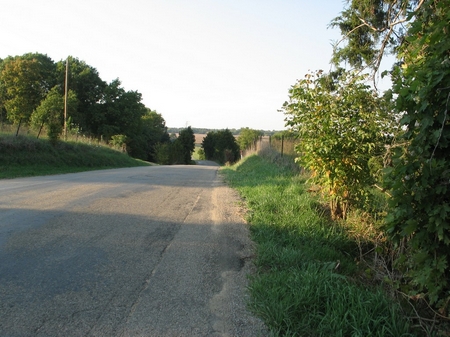 This is the Ten O'Clock Road northwest of Rockville, IN. It was just irregular enough to make for pleasant riding, but it certainly wasn't arrow-straight like a treaty line road.
There is a reason for that. It doesn't follow the treaty line anywhere. I had at first guessed it followed the line mostly, but that it twisted and turned away from the line here and there on account of the terrain. But that isn't it at all.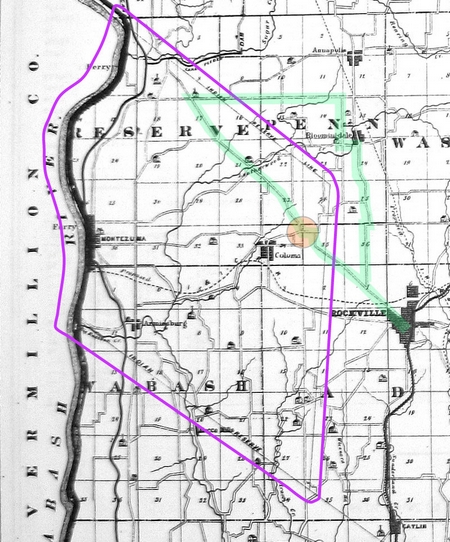 This is from the 1874 atlas of Parke County. (It's not as good a photo as I had thought I had taken. I used a tripod to hold my camera for use as a copy machine at the Rockville library, but maybe I need to do something for a light source in addition to ambient light. Any ideas on something small and compact that could be carried in my panniers or computer bag? Maybe something could be done with LEDs.)
The photo is barely good enough to make the point, though.
The treaty lines of Royce area 114 are shown inside the purple line. The Wabash River forms the boundary to the west, and the 1809 Fort Wayne treaty line forms the south boundary. The route of my bike ride is shown in green. It doesn't follow the north treaty line at all.
Another point: The intersection shown in the previous blog article (at the brownish circle near Coloma) has been straightened out very little since 1874.
The photo shown above is probably a view overlooking Leatherwood Creek in section 21, though I'm not positive about that.