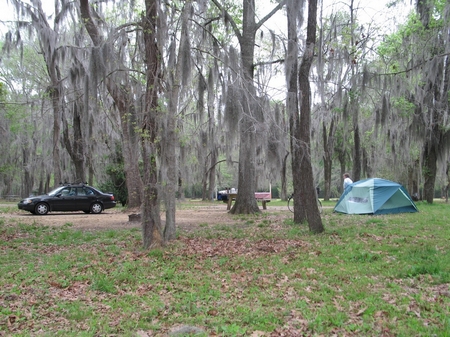 On April 3 2006 I woke up to enjoy a campground with Spanish Moss. It was a first for Myra and me. This is at Fort Toulouse National Historic Park, near Montgomery, Alabama, where the Coosa and Tallapoosa Rivers join to form the Alabama.
I had ridden into camp after dark the night before so didn't get a good look at the place until morning. The day before I had ridden from Selma to Montgomery, stopping along the way at historic sites on the Alabama River. I had then had gotten lost trying to find my way across Montgomery. Myra had had a chance to do some Civil Rights tourism in Selma.
I got to thinking about this place when one of the bicycle tourers on the phred mailing list told about a Cherokee ancestor of his who had made the mistake of fighting on the side of Gen. Andrew Jackson in the Creek Wars. It was at a meeting here, after the fighting was over, that Jackson's Creek allies learned their reward would be being forced to give up a large part of their land in Alabama.
And by here, I mean a short walk away — with no fences or barriers between the campsites the exact site of Fort Jackson/Fort Toulouse. I imagine this very spot was used as a campground by some of the parties involved.
I don't know that I've ever had the privilege of camping right on a spot of such historic and archaeological significance. And in case anyone gets ideas, the campground authorities DO make it known that they don't want to see campers out with metal detectors.