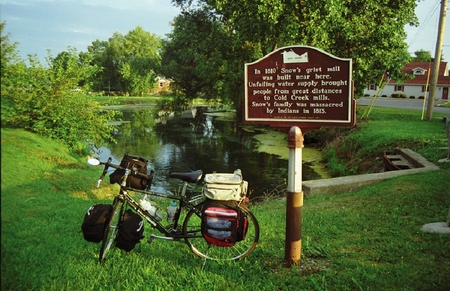 On Labor Day weekend 1998 I did a ride to Castalia, Ohio near Sandusky, and then partway back. Myra said she had been to Sandusky once and wasn't interested in driving there again to pick me up, but some place like Adrian would be OK.
The story I was following ended up being one of the most momentous of the Black Hawk Slept Here project for me, because of the additional archival information it led me to. But this bike ride itself was an especially memorable one.
It was the first time I set foot in Ohio. (I don't count driving through on I-80 and getting out at the rest stops as having been in Ohio any more than I count a flyover of Massachusetts as having set foot in that state.)
Towards the end of Day Two I was slogging east against the wind, towards Fremont. It seemed there was no likely place to camp, so I decided to look for a motel, about 20 miles short of my intended destination. I learned that all the motels were on the east end of town, on the half-ring road that carried the heavy traffic of US-20 around the town.
On my way through town, I passed a park-like place with a cannon and historical markers. It looked very interesting in the fading light, but it was getting too late in the day to stop. Little did I know at the time that it was a place where Black Hawk had been in 1813, hanging out along the edge of the Battle of Fort Stephenson. I was passing up one of the main Black Hawk stories for a story on the periphery. But the peripheral story was a good one, too.
I crossed the Sandusky River in town, and then saw an older, downtown-type motel. I decided to stop there instead of going any further. A man in the far end of the parking lot was doing some cleanup, and I waved hello as I went into the office. In another minute that man was in the office, too, instructing the desk clerk to give me a discounted rate, $30 including tax, because I had come by bicycle. Even in 1998 that was a good rate. The room was clean and had a desk where I could plan my routes for the next day.
It was going to be difficult to have enough time to ride to Castalia, spend some time in the area getting photos, and then ride back to Michigan for Myra to pick me up. I decided I should leave early in the morning, well before the sun was up.
And that's what I did. I don't remember the hour of morning, but it was pitch dark. This was before I had any kind of headlight for my bicycle. Riding through town was OK, because there were streetlights. When I got past the ringroad, it was still dark, and there were no more lights to help me. I could barely see where the road was. There was almost zero traffic, which I think was a plus. I was glad that these Ohio roads were in much better repair than a lot of our Michigan roads, because I was not able to see well enough to avoid potholes. Once in a while I rode past a rural residence with a yardlight, and that helped.
By the time I crossed state road 510, it was getting light enough to see easily. But the sun was still not up when I reached Castalia. While waiting around for the sunrise so I could take photos, I was pleased to find that the historical event that brought me to Castalia had been commemorated on a marker, which is shown on the photo above. (Most of the photos in this blog, including the one above, are clickable for a better view.)
The story that brought me here was that of young Orlean Putman, a farmer in Cass County Michigan, who had told of having been captured by Indians during the War of 1812. He was five years old at the time. I haven't been able to verify every detail of what he told, but I have found quite a bit of corroboration, and nothing to contradict anything he had said. This story of the Snows and the raid by Ottawa Indians as told in the histories here in Erie County complements the story that Orlean told when he was living in Cass County.
There is a lot that can be told about this incident and about Orlean Putnam. I still haven't quite figured out the best way to tell it all, because it connects to a lot of people, places, and events in the history of the region. But this is enough for one blog article, anyway, so I'll stop here by posting a photo portrait of Orlean Putnam that I scanned from the 1882 History of Cass County.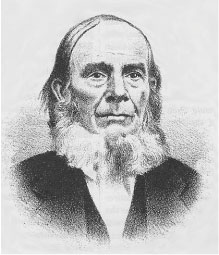 Oh, I didn't make it quite as far as Adrian that day. Myra agreed to come as far as Perrysburg, Ohio (near Toledo) to pick me up. This was a memorable day for her, too, because she slipped and fell while touring Fort Meigs there with me, and still has some problems that originated with that fall.