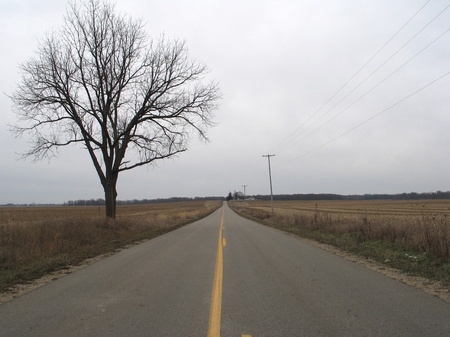 This is a piece of OP Avenue, south of Climax, that I had never paid any attention to. It's paved, even though the old UniversalMap doesn't show it as paved. Now I can show it on my own maps as one that's bicycleable. Maybe I can use it as part of an alternate route to Leroy Township or Athens. I'll have to ride down to the end and see if the roads it connects to are now paved, too.
Not just yet, though. There is too much snow and ice on the roads now, and has been since a couple of hours after my ride finished last Saturday.
When I was there I rode just far enough off of 44th street to get this photo, and then turned back. A couple of joggers came around the corner. I said "Hi" and one of them noted on seeing me, "Somebody is crazier than we are." I had already gotten pretty chilled by that point, though, and was seriously thinking of calling it a day.
Before I started this ride, I had been dealing with the aftermath of some cold virus that had just barely affected me. That happens sometimes — I go through the usual sequence of cold symptoms, but get just a very mild, quick version of it all. But getting myself chilled probably wasn't the right thing to do. It ended up knocking me down for most of Sunday and Monday. I'm just starting to feel like I should get out on my bike again, but the weather forecast doesn't look so good for clear roads for the coming weekend.
I do have more history stops to make on Climax Prairie, though.
Last night, for example, I was learning about James Madison Fellows, who had bought land about two miles north of this point. I presume his father was Abiel Fellows, a Revolutionary War veteran who is not listed on the militia roster of the Black Hawk war, but who even at his advanced age did some messenger service for the militia. A local branch of the D.A.R. is named for him. And I learned that James M. Fellows had married into the Bazel Harrison clan — in fact lived practically next door to him over in Prairie Ronde township. The land he bought near Climax was right next to that bought by one of Bazel Harrison's many sons who actually settled here. A clannish group, it would seem. James later moved to Minnesota, and bought government land very near the Mississippi, near Lake City. His wife came back to Michigan after he died. James Fellows had served in the militia during the Black Hawk war, so if I ever go riding in southeastern Minnesota, I have an excuse to go take a look at what should be some scenic country. It might make more interesting photos than the one here. But for now, I'll just be glad when I can go riding to Climax Prairie again.
I was just about to click "publish" on this one, and realized I hadn't looked up the original buyers of the land in this photo. It's not land that was bought at the White Pigeon land office. It was bought a little later than that. But still, I should check.
Well, I see that almost all of section 11 was bought by members of the Eldred clan, including some that was bought by the patriarch himself, Caleb Eldred. They were all prominent figures in the local history, but unfortunately not a one of them is listed in the militia roster, so I don't have that as an excuse to spend a lot of time on them.