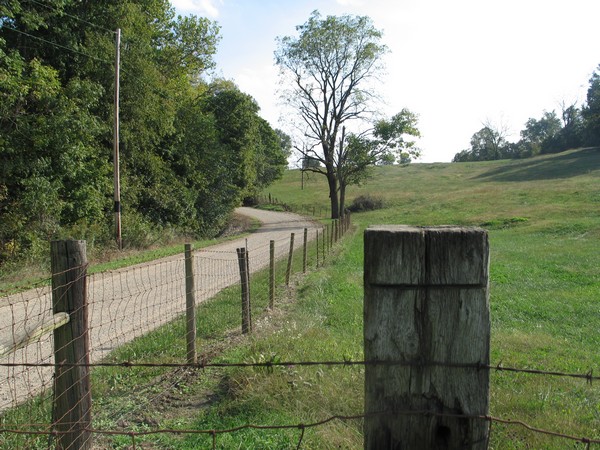 We spent the morning in the Rockville library. I wanted to narrow down the site of Isaac McCoy's mission near the Ten O'Clock Treaty Line in Raccoon Township.
McCoy had said he purchased land in Section 33. But the GLO land patent records that the BLM has online do not show McCoy as one of the purchasers. I now think I've narrowed it down pretty well, though, by process of elimination, with the help of an 1874 county atlas. The 1880 county history says McCoy's mission school was on land currently owned by Mrs. Lawrence Cox. The 1874 atlas shows which land was owned by Lawrence Cox, and most of it is indeed in section 33. And there is a 40 acre parcel that is not listed in the online database. It's the NW quarter of the NW quarter. It seems to be the site of some early building sites, too.
Maybe there are records at the county courthouse that can shed more light, but for me the next order of business was a bike ride. Visiting this site was the #1 objective.
The gravel road in the photo curves up towards the 40-acre parcel in question.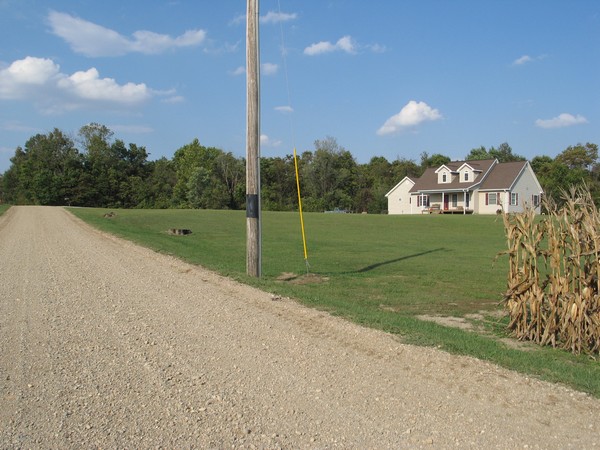 The house here could very well be where McCoy had his two log cabins. There is other land nearby that would have been better farmland, e.g. down in the valley of Raccoon Creek (straight ahead) or behind where I'm standing. But this site is on the highest ground around, and I'll bet there was a spring for water on the hillside where the trees are growing.
For now, at least, it's my best guess. If anybody would have been home at the house, I would have asked if they know anything about it. So far nobody I've asked has known, including the mill owner in nearby Bridgeton. He does know about Isaac McCoy, though.
I haven't been able to make contact with the county historian so I could ask him, but I haven't tried very hard, either.
Today's ride was about 32 miles. I rode into the wind to this site, and the wind stayed strong enough to blow me back to Rockville late in the day.