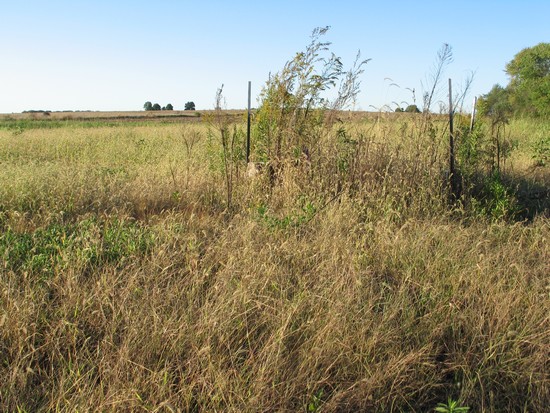 This is what's left of the Maria Creek Baptist Church cemetery in Knox County, Indiana. The gravesite of Charles Polke is now marked by four steel fence posts, and is not currently threatened by agricultural implements.
Our car, with my bicycle on it, was parked at the trees in the left center background. The creek is behind me.
I rode 56 miles, but didn't make it all the way by bicycle. At the end I was riding on US-41, trying to make up for lost time but hoping Myra would pass me there so I could hitch a ride and get to the gravesite before dark. It worked.
The countryside here in Knox County was not what I had expected, but it's the kind of place where I like to ride. So it was doubly disappointing not to have made it on two wheels. On the other hand, this way Myra and I had a nice walk together to the gravesite. It was a walk of maybe 2/3 of a mile along old fence rows.
The ride started from Rosedale, one of the places I had ridden to Monday, with the idea that it would be a ride of about 60 miles. But that still wasn't enough. It didn't help that I took a side trip to Fort Harrison on the north end of Terre Haute, and hung around there awhile.
It would also have helped if I had followed the advice of the two nice young women at the Starbucks on the south end of Terre Haute. We bicycle tourers often complain about how non-riders don't give good advice about roads. In this case, I could have saved myself some miles if I had taken the road they suggested. In fact, I should have listened to their answers about the areas where I said I didn't want to ride. On the plus side, I had a nice ride through Vigo County, until I got to the county line.