For a Labor Day bike ride, I visited all three of the old prairie locations in Barry County, Michigan.   Barry County is not where one usually goes to see prairies, but after all, one of its townships is named Prairieville. That's where one of the small prairies is, too, and that one was surrounded by extensive savannah-like near-prairie.
This web page about the Prairie Peninsula doesn't even mention Michigan, but a lobe of the peninsula reaches up into southwest Michigan.  The larger prairie patches in Michigan are in Kalamazoo and St. Joseph counties, but there are some small prairie patches all the way to the 3rd tier of counties from the Indiana border.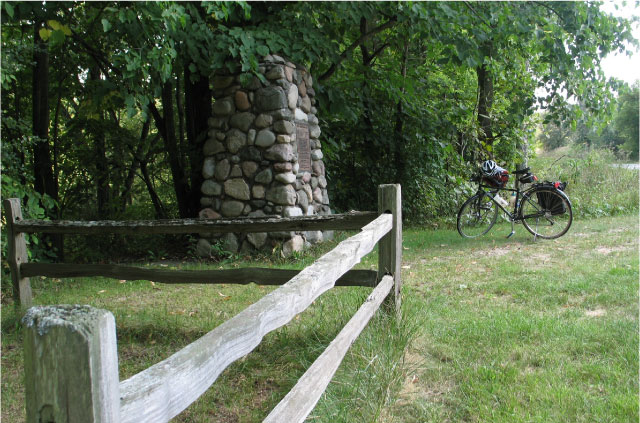 Bull's Prairie was a small area along the Thornapple River, near Middleville.   I learned today that there is a historical marker for it.  It talks about A.E. Bull, who bought the land here, and about the French trading post that had been here, but doesn't mention prairies.
From maps I've seen, it looks like the Indian village that used to be here was on the other side of the river from this site.   In the 1830s it was described as a mixed village of Potwatomi, Ojibwe, and Odawa people.
Before the war of 1812, Tecumseh is known to have come to Michigan on a recruiting mission, where he met with a mixed group of these three Anishinabe peoples.  Well, here is a place where twenty years later, all three were living together at least during part of the year.   So is this where Tecumseh came on his recruiting trip?  We don't know, but I suppose it's as good a possibility as any.
I did make it to all three Barry County prairies, but the 75 miles I rode was almost too much riding for the day.    I had only ridden about 55 miles since the Bremen, Indiana trip two weeks ago, and that is not nearly enough for someone my age to be staying fit enough for long rides.
I had a flat tire in Middleville.  After going three years with no such problems, I had more than my share this past week.    Dealing with flat tires and blowouts all week is one of the reasons I didn't get in so much riding.  I finally decided that the reason for the blowouts was that the gauge on my pump was not recording properly, so I way-overinflated my tires a couple of times, with the result that I had two big-bang blowouts.   I've ordered a new pump.  The one I had served me almost ten years, so I suppose it's time.
It would have been better to do a 50-60 mile ride today.   The last 20 miles I was dragging.  I had to stop a few times to take a breather, including one just a few miles from home where I could easily have packed it in for the day if it wouldn't have been such a big nuisance to call for a rescue mission.
When I got home I collapsed into the Lazy-Boy recliner without even washing up, thinking I would fall asleep watching Russian movies.   Unfortunately that revived me a bit (as watching these movies often does) but after a while I decided I needed a good nap before putting on my Spokesrider hat.   The biggest excitement of the day came when I woke up from my nap, got out of bed, and realized my right leg had all cramped up.  I had noticed on the last 5 miles of the ride that I was almost on the verge of getting leg cramps, which actually happened once last year near the end of a long ride in hot weather.   But this time there was no standing on the leg to get the cramp out — it was already cramped up.  It hurt too much to stand on it, and hurt too much to collapse back into bed.  I tried calling Myra to help me get back into bed, but she was elsewhere in the house and didn't hear me.   I figured this was going to make me sore for a week, and wondered what it would do for my bike riding plans next weekend.  But eventually it let up enough so I could ease myself back into bed, and after a couple hour's uneasy sleep the cramp was completely gone with no residual soreness.  That was strange — I've had lots of leg cramps but never had anything quite like that before.