After taking a quick look at Talma, I rode back to the west side of the river, and then south towards Rochester.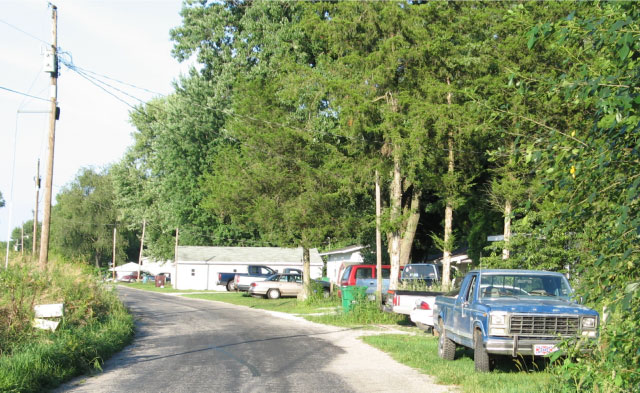 Toisa's village and reservation had been here Now there is a different sort of riverside village — lots of cottages and mobile homes, some of them in not very good condition.
I haven't been able to find much information about Toisa. His name is on a few treaty documents. At one point there was talk of his going with Aubenaubee to visit the Choctaw academy for Indians in Kentucky, but I don't know if the two of them actually went.
Further downriver I came to the likely location of Masac's village, but had a hard time finding anything photogenic. The road was pretty well shaded, and now the sun was definitely low enough to make it hard to take photos at all. I dug out my cell phone to check the time. No wonder. It was far later than I had thought.
I rode a little faster and didn't make any more photo stops. Myra picked me up a short distance outside of Rochester, and we drove back to the campground. I had several more places to visit on the northeast side of Rochester, but they would have to wait for another time.
It had been a 38 mile ride, which was OK for the first day. I had done so little riding since the July Amishville outing, that I was afraid I wouldn't be able to do 200 miles in the four days. But this 38-mile starter ride didn't leave me very tired at all, so that was a good sign that it would be OK.