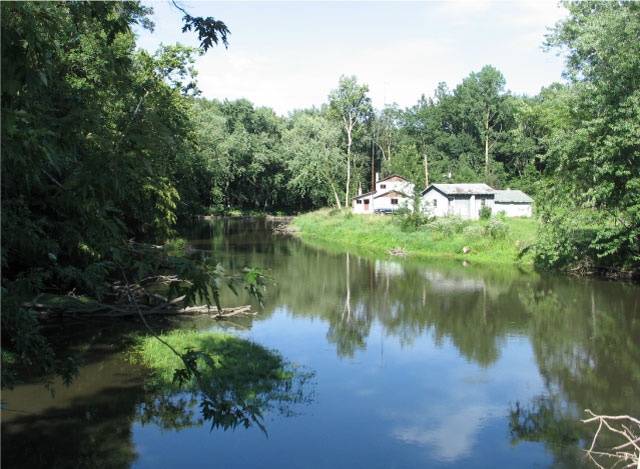 Just a bit further west from the River's Edge Farm, the road crossed the Tippecanoe, the 2nd of many crossings for me that day. I stopped to take some more photos of the area that had been part of Chechawkose's reserve.
There was not a lot of traffic on this road, but a car came by every couple of minutes. One pickup slowed down and almost stopped. When I was able to, I turned around to look. Usually it's someone asking if I need help. This was a man with close-cropped hair behind a rolled-up window. He didn't look like someone who was going to offer some friendly assistance. We looked at each other briefly, and then he sped up and drove off, leaving me to look at the big confederate flag on his rear window.
I've been studying that map of Indian reserves more closely, and now it looks like I may not have been taking pictures of Chechawkose's reserve. As best as I can now tell from that map, I was traveling on the northern boundary of the reserve. I should have been taking photos on the other side of the road — the south side. But the sun was already low enough in the sky that it would not have made for good picture-taking in that direction. These photos are probably of the land just off the reservation to the north. I'm glad I took them anyway.
Not that the actual boundary meant much. While they were living here the Potawatomi people didn't have any reason to restrict their activities to the land inside the boundary, and the American settlers had no intention of allowing the boundary to keep them from taking the land inside it. I'm not sure if this particular reserve was even surveyed. Some of the similar reserves further upstream in Kosciusko county were surveyed and have left marks on the landscape to this day. (I have photos about it from a bike outing in Fall 2006.) So far I haven't found any such marks for the reserves in Marshall and Fulton counties. But I still have a lot to learn about them.