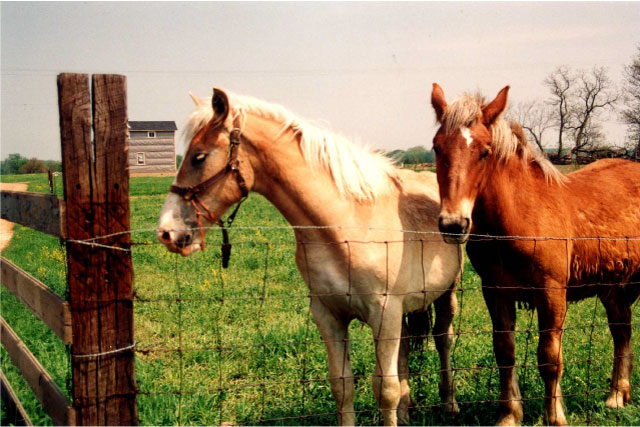 This is an old photo from an old bike ride, but I was reminded to post it by things I read on the Amish America blog, which I discovered just a couple of days ago while looking for more information about the Amish in the Topeka, Indiana area. Lots of good information and insights on that blog.
These Amish horses were photographed just west of California, Michigan, the first time I rode there in late May 1999. California is a small crossroads community near the Indiana border, a few miles east of I-69. I wanted to visit the places told about by one of the first settlers. This land was probably his property. His wasn't exactly a "Black Hawk Slept Here" story — this settler had come in 1835, three years after the war scare — but I couldn't pass it up.
These horses were my first clue that his place was now part of an Amish community. It may have been a fairly new one, because it looked like they had taken over some previous owners' non-Amish buildings.
I tried taking photos when I got to the house down at the other end of this property. I wanted them more for the history than the Amish. But I felt bad that the kids there felt compelled to run and hide when I got off my bike. Not that I was trying to photograph them, though I gladly would have done so if they wouldn't have minded. But they were obviously watching me as much as I was watching them, and they ran away whenever I saw them.
A few hundred yards further down the road, some Amish men were working on the roof of a house. I was on a solo, self-contained trip with full panniers front and back, and that may be why all four men stopped working and came over to stand on the near edge of the roof to watch me as I rode past. I guess my rig was something to see.
That's not the only time I've gotten that kind of attention, though often it's younger boys who are interested in my bike and touring rig.
Amish people have mixed feelings about being the object of tourists' attentions. Sometimes it's like living in a goldfish bowl. (This California community is actually pretty well hidden from the tourists.) I must confess that I don't mind at all how is sometimes works in reverse when I'm on tour. But there is a difference in that I can get away from it.
I have other stories and memories from that very short tour, but this is enough for now.