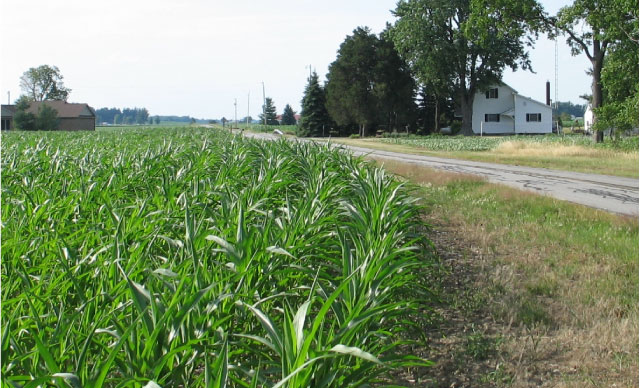 This was the final destination for the day — a piece of county road that marks a tiny part of the boundary between the area known as the Virginia Military Tract and the lands of the rectangular survey system.
The military tract is to the right of the road in the photo. It was for Virginia's Revolutionary War veterans, and was part of the deal by which Virginia agreed to the new Confederation with other states. The method of surveying property lines of the military tract was chaotic, and over the years resulted in lots of litigation over boundaries. (There's a good Wikipedia article that explains more. )
The land to the left was part of the system of rectangular survey into square miles and square townships.
The adoption of the rectangular survey was part of the same regularizing, rationalizing influence of the late 18th century that gave the world such things as the metric system of measurement. Its efficiencies were very consequential to individual lives and to the settlement of the North American continent. But all one sees here is an ordinary piece of county road to separate the two systems. That's what I had come to see.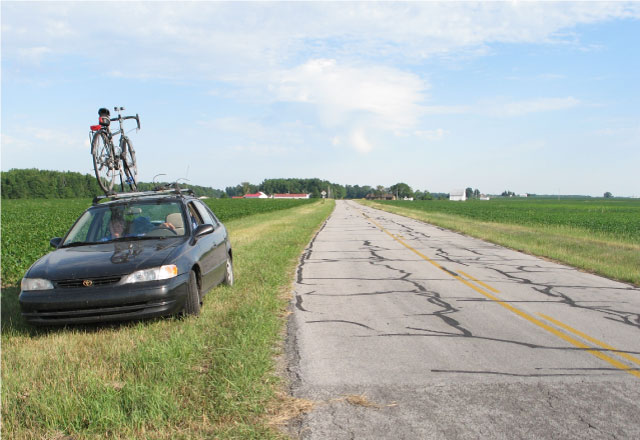 At the end of the little stretch of road (here the Virginia Military District is on the left) Myra picked me up, and the four days of bike riding came to an end. I had ridden 78 miles that day, and I had 213 miles for the four day outing, which was comfortably more than my goal of 200.
The average daily totals were not as much as I usually have done in the past, but this gave us a little more time to do things together between rides that didn't involve my bicycle, including a good part of one day spent doing local history research in the Wells County public library. We're planning more outings like this.