From Fort Amanda I rode to Buckland, hoping to find the historical marker for White Feather. I had missed it when I rode here two years ago, when I hadn't known it existed. I missed it again this time — wasn't able to find it. Maybe another time.
A question which local history buffs might be able to answer: Does Wapakoneta mean White Feather in Shawnee? The "Wap" likely means white, but I have no idea about the rest of it.
I finally got food in Wapakoneta — but it was not a good experience. Enough said about that.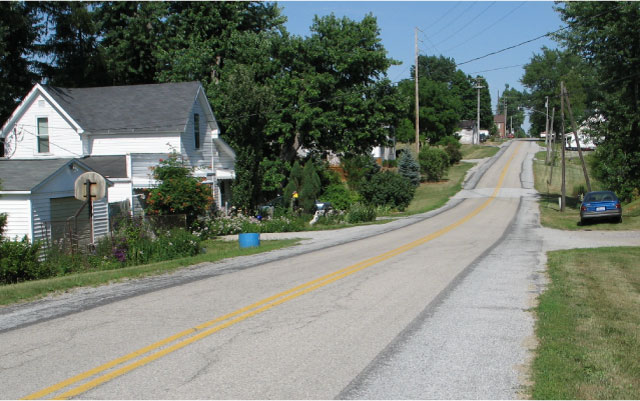 I rode county roads south of US-33 and approached St. John's from the south. This was where the Shawnee leader Black Hoof had lived.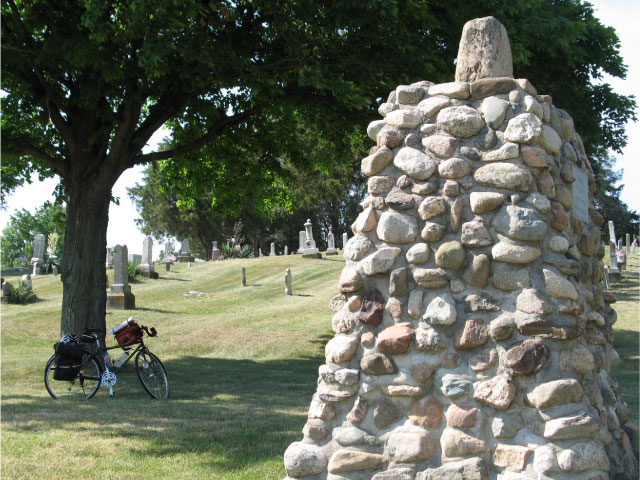 This is one of two monuments to him in the small town. The words engraved on it say in part, "[He] opposed the Indian confederation of Tecumpseh in the War of 1812. A just and honorable man / Respected by both friends and enemies."
The Americans showed their respect in a strange way, though. Black Hoof did indeed resist Tecumpseh, and in return a couple of his followers were killed in one of Tecumseh/Tenskwatawa's witch hunts. (Witches came to mean, almost, "those who cooperated with the Americans'.) Instead of fighting with on the side of the British in the War of 1812 as did many native people (such as Black Hawk) his faction sat it out. As a reward his people were evicted from Ohio by the Americans after the war. But Black Hoof died before the eviction was complete, and is buried near here.