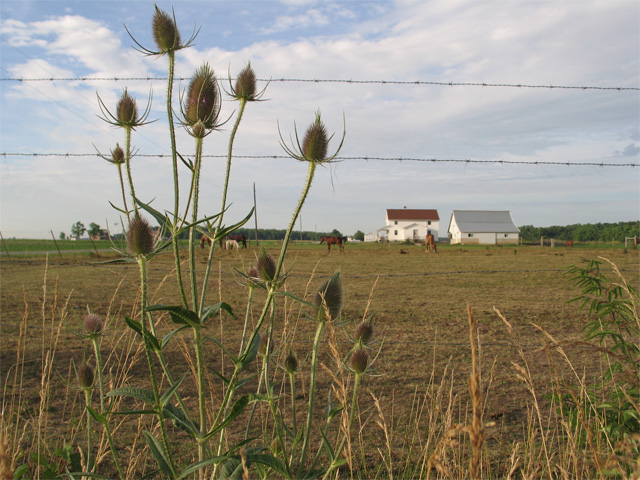 July 3 was the 4th and final day ride. This time I was headed to the southeast corner of Auglaize County, Ohio, where the Virginia Military Tract butts up against the lands of the rectangular survey. The county maps showed a road that followed part of the boundary. That was my main destination. It's another one of those bits of history that left a mark on the landscape, and I wanted to have a look.
I got a fairly early start – not even taking time to make coffee and oatmeal. I ate a grocery-store granola bar that Myra gave me, and said I'd save the other one to eat on the way. Then I forgot it in camp. So I was hungry by the time I got to Rockford 20 miles later. But at the point shown in this photo, I didn't yet realize it. It's at the Indiana-Ohio border. Teasels were in the roadside ditches all over.
I don't recall seeing any more Amish farms once I crossed into Ohio. The political subdivisions can be important to these people, depending on local laws in one jurisdiction or another. It's not as though there aren't a lot of Amish in Ohio, but here it seems that for whatever reason, around here their farms go no further east than the Indiana border.
replaced photo, 24-jun